Another new pedal to add to the rig and this time it's a big one. The Strymon Timeline delay. Delay is such an important part of our sound and I currently have four delay pedals on my board each with a different purpose. I previously was using an Akai Headrush E2 as my final delay and looper. It was the last thing in my chain and an important part of so many songs. Recently when trying to clean things up I've noticed that the Headrush isn't as quiet as I would like it. There was always a slight white noise added to the signal. Maybe it's because I've had this pedal since 2005! I started looking for a combination digital delay and looper. I thought about the possibility of the Ditto X2 Looper, but I didn't want to give up that last clean delay. The Timeline seemed like a natural choice. It's remarkably flexible, has tons of sounds, and 200(!) presets.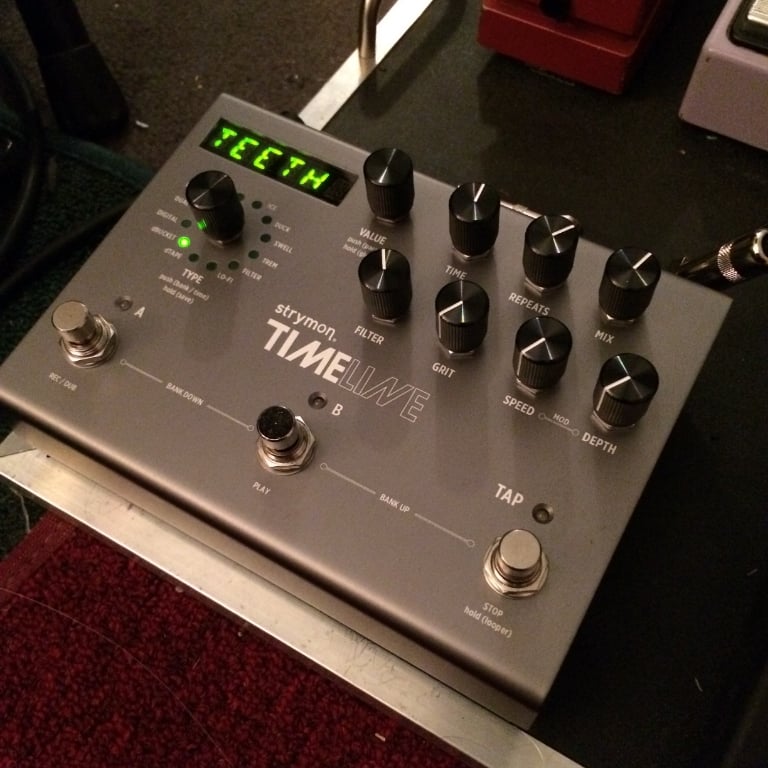 The Timeline feels really solid in your hands. The switches are high quality and the knobs are great. The LED screen is easily readable from afar. I found programming some simple patches and naming them intuitive. I love the sounds I've been able to get out of it as well.
The looper function works perfectly, but it isn't quite as easy to activate on the fly as it was on the Headrush. It makes up for it by being midi controlable and being able to use the delays in your loops. I'm currently looking into small midi controllers to expand the looping functionality. This will open the looping functions well beyond the Headrush while maintaining the ease of use.
All of the delay sounds and options are top notch. Tons of great sounds and presets. I've only got two of my own presets right now based on specific delay sounds I need in two songs, but all the built in patches are great. Highly highly recommended pedal!