Since my last post talking about pedal board organization I've done some moving around. I watched this video and was inspired! So I've gone back to the drawing board and decided I'd like to get a few new pedals. First up is the Molten Voltage Molten Midi 2.
I had some space on my right board above my Whammy that was begging to be used. I thought about practicality. I also wanted something that would be fun to expiriment with. An issue I have when playing is forgetting to change Whammy pedal settings between songs. Having a footswitch to let me do that without bending over could be really helpful. I had looked into the Molten Voltage One Trick Pony, but when I discovered the Molten Midi I thought it would be way cooler.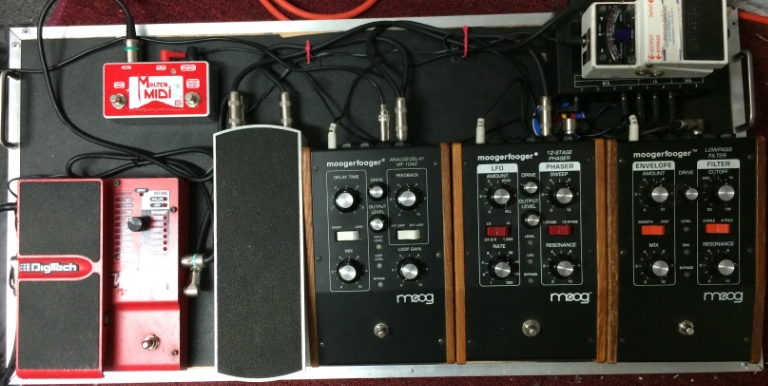 Not an effects pedal as much as a controller for the Whammy pedal, the Molten Midi allows for some very cool effects. It enables me to change settings without bending over mid song. It also allows you to program sequences and create sounds never before available. I've already made some great sounds with it.
The only issue I've had is the pedal requires a reverse polarity power adapter. It probably says it clearly in the documentation somewhere, but I think just saying that it is the opposite of the standard Boss power supply might have been clearer. A quick call to their support cleared it up though. Luckily I had the correct power cable laying around and I was ready to play with no issues.
I'm pretty excited to explore the capabilities of this thing and it will get lots of use on our upcoming mini-tour!