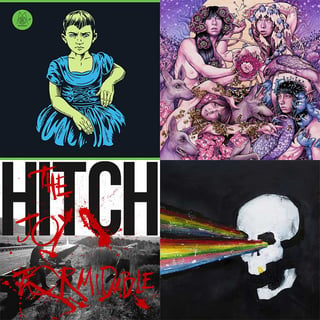 Its only April, but 2016 has already had some pretty cool music. I wanted to share some of the music that I have been listenning to lately.
Stream this playlist on Spotify or Apple Music.
Most of the tracks are from this year, with a few released last year. Here is my April playlist:
'Reminder' by Moderat - slick electronic track from members of Apparat and Modselektor
'Shock Me' by Baroness - a single from my favorite metal release of 2015
'Liana' by The Joy Formidable - a dynamic slow builder from UK power trio (just wait for Ritzy's bridge riff).
'Genghis Khan' by Miike Snow - fun pop song that will follow you around all day
'Soft Scene' by Autolux - love the synth bass on this track
'untitled 08 | 09.06.2014' by Kendrick Lamar - fantastic rencently-released demo from To Pimp a Butterfly sessions
'Excuse Me' by Nothing but Thieves - soaring alt-rock tune
'Gardenia' by Iggy Pop - Iggy Pop + Josh Homme... I'll take it
'I Am Chemistry' by Yeasayer - psychedelic pop rock single from the new Yeasayer record
'Burundi' by Saul Williams (feat. Emily Kokal) - intense

standout

track from Saul's latest release
'Blood on the Sand' by Thrice - I'm just glad these guys are off of hiatus
'Changes' by Charles Bradley - the greatest male soul singer of recent times singing a Black Sabbath classic
'Winter Lungs' by Undersea - shameless plug for one of our new (old) tunes. Has a lot of drive and atmosphere
'Roundtable Discussion' by Black Knights (feat. Trickfinger) - hip-hop collaboration between Black Knights and John Frusciante's electronic project Trickfinger
'Too Late to Say Goodbye' by Cage the Elephant - some damn fine garage rock
'Take It There' by Massive Attack (feat. Tricky & 3D) - brilliant final track from new Massive Attack EP. Also has a really cool music video
'BURY YOU' by SBTRK (feat. The-Dream) - immersive electronic cut from the UK-based DJ SBTRK
Enjoy the tunes...